The Utiel-Requena wine region
If you leave the city of Valencia and go direction Madrid, into the interior, you'll get to the wine region of Utiel-Requena, at about 70 kms from the coast. The region gets its name from its two main villages, Utiel and Requena. Because of its long history of wine making, and its good wines, it's an interesting area to visit. Besides, it's not far from Valencia city, so you could go up and down in a day, if you want (but you could also stay overnight at a winery!).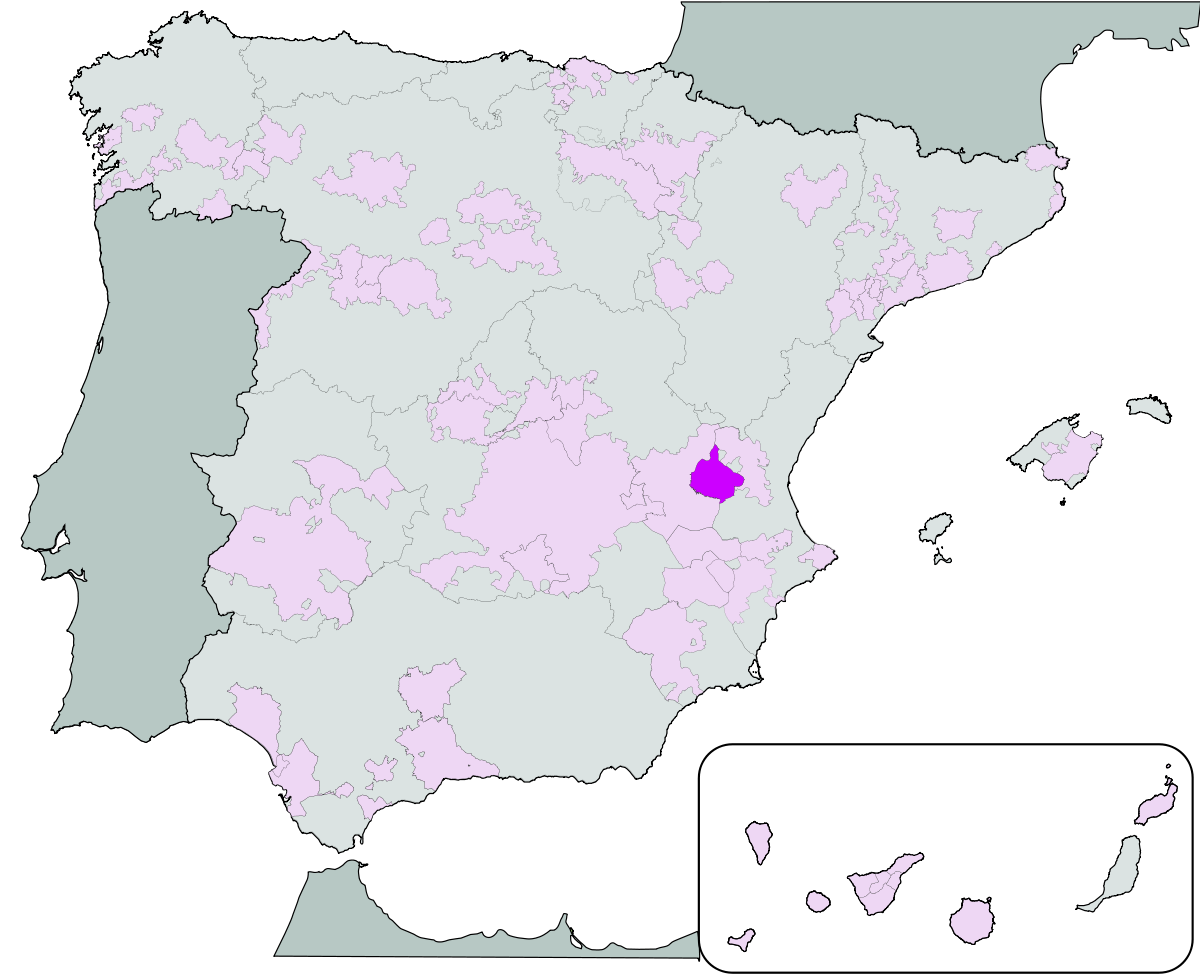 The Utiel-Requena wine region in Spain
The Utiel-Requena area is a small plateau of about 1800 km2, at 600-900 meters altitude; it has around 35,000 hectares of vineyards, and growing grapes is the most important economic activity in the region. It's dry, with short hot summers and long cold winters, and a big difference in daytime and night-time temperature – ideal for making quality wine. Most of the wine here is produced by large cooperatives; there's about 110 smaller (and usually privately owned) wineries.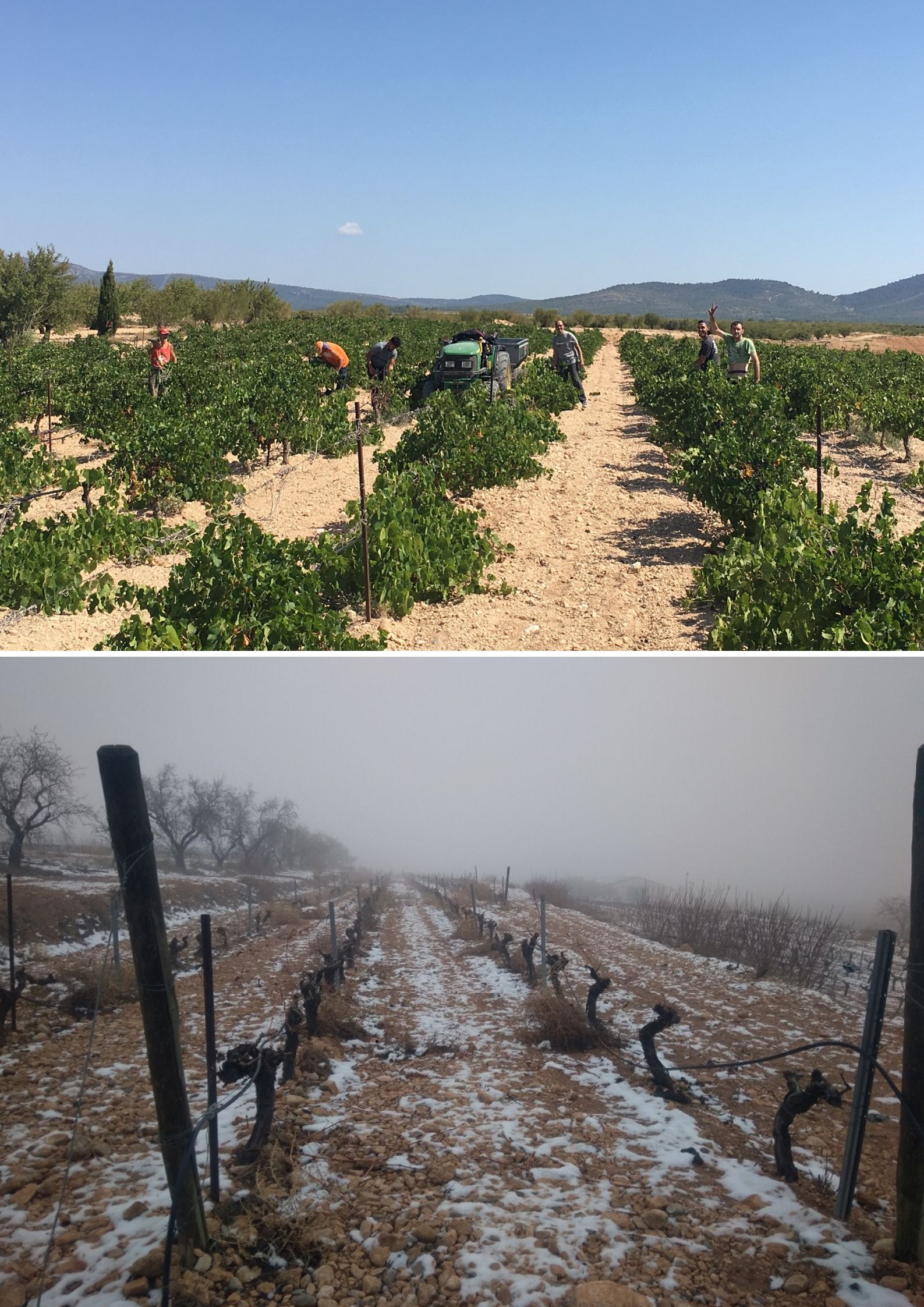 Utiel vineyard in summer and in winter
History
Spain's oldest winery was discovered here, not far from Requena, showing that more than 2700 years ago wine was already produced in this region. Wine production may have suffered (or not..?) during the Moorish rule (roughly from 715 to 1240 in the Utiel-Requena region), but it certainly was an important economic activity in the 18th century. In Requena there's evidence that in 1752 the caves that were dug out under the houses by the Moors in the 9th-10th century, were mainly used for wine production and storage. The Caves Museum is a great place to visit, and you even get to taste your first wine down in the caves!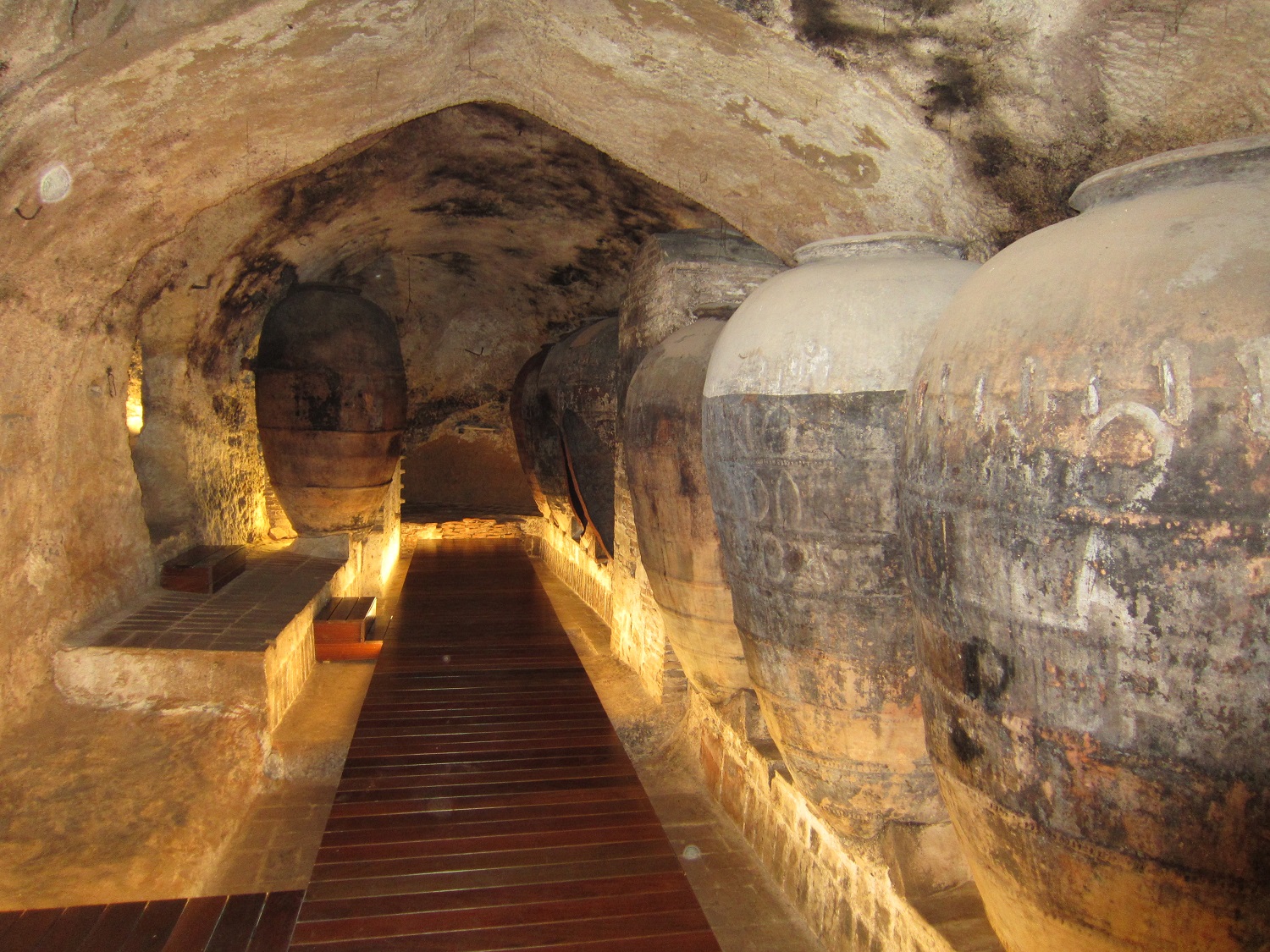 The wine caves in Requena
Wine making became even more important at the end of the 19th century, after the arrival in Europe of Phylloxera; this insect, eating the roots of the vines and ultimately killing the plant, destroyed a large proportion of the French vineyards, and forced the French to look for wine elsewhere. Supplying the French with wine became a huge business in Utiel-Requena: many people started growing grapes and producing wine, many new wineries were built, and the railway line connecting Utiel with the port in Valencia was constructed.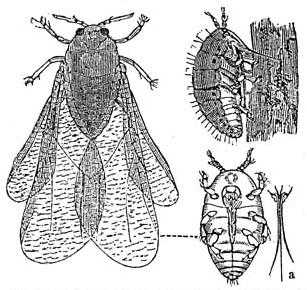 Phylloxera
After experimenting with hybrids, a better solution was found in around 1870: grafting the European grape variety on American rootstock – the American vines are largely resistant to the Phylloxera. This method was initially only reluctantly implemented in the 1870s and 1880s (in France); later it became the norm. Nowadays it's used everywhere in Europe, America, and even in parts of Australia; it's the only way to grow European grape varieties (except in sandy soils where the Phylloxera does not like to go).
When Phylloxera eventually arrived in Utiel-Requena (1912), the solution was already known, and it was a matter of uprooting the vines and replanting with the grafted American rootstock. It was also the perfect moment to consider planting something else, as obviously the French had already planted vines with American rootstock and demand for Spanish wine had reduced considerably. Though many decided to go back to producing grains or olives, grape and wine production remains up to today the most important economic activity of the region.
The grape: Bobal
The red Bobal is the main grape of this region, perfectly adapted to the region's dry climate; it's a grape with a lot of colour and tannins, making it ideal to blend with other wines, adding structure, colour and tannins. At the time of the Phylloxera there was a good market for extra strong ("doble pasta") Bobal wine, exported to France to mix with French wines (actually, this continues up to today…). Because of this focus on bulk wine production, it was generally thought and accepted that it was impossible to make a decent, drinkable varietal wine with the Bobal grape – it was considered only good enough for mixing with other wines. In the late 20th century however a new generation of winemakers decided to experiment and try to make quality wine with the Bobal; wineries like Mustiguillo and Vera de Estenas were at the forefront of these developments.
And so, nowadays there are quite a few very good Bobal wines! I have already mentioned the Mustiguillo winery, with beautifully renovated buildings and great Bobal wines: Finca Terrerazo and Quincha Corral, two of the region's top Bobals. They also make very nice white wines with the native Merseguera grape. Then there is Vera de Estenas, a small family-run winery, very authentic, some great wines. They produce Casa Don Angel, an old vines Bobal, but they have also gone back to the tradition of making wine in clay pots – they use the tinajas to make a Bobal wine, and an interesting white wine made with the Tardana grape, a native variety that has almost disappeared.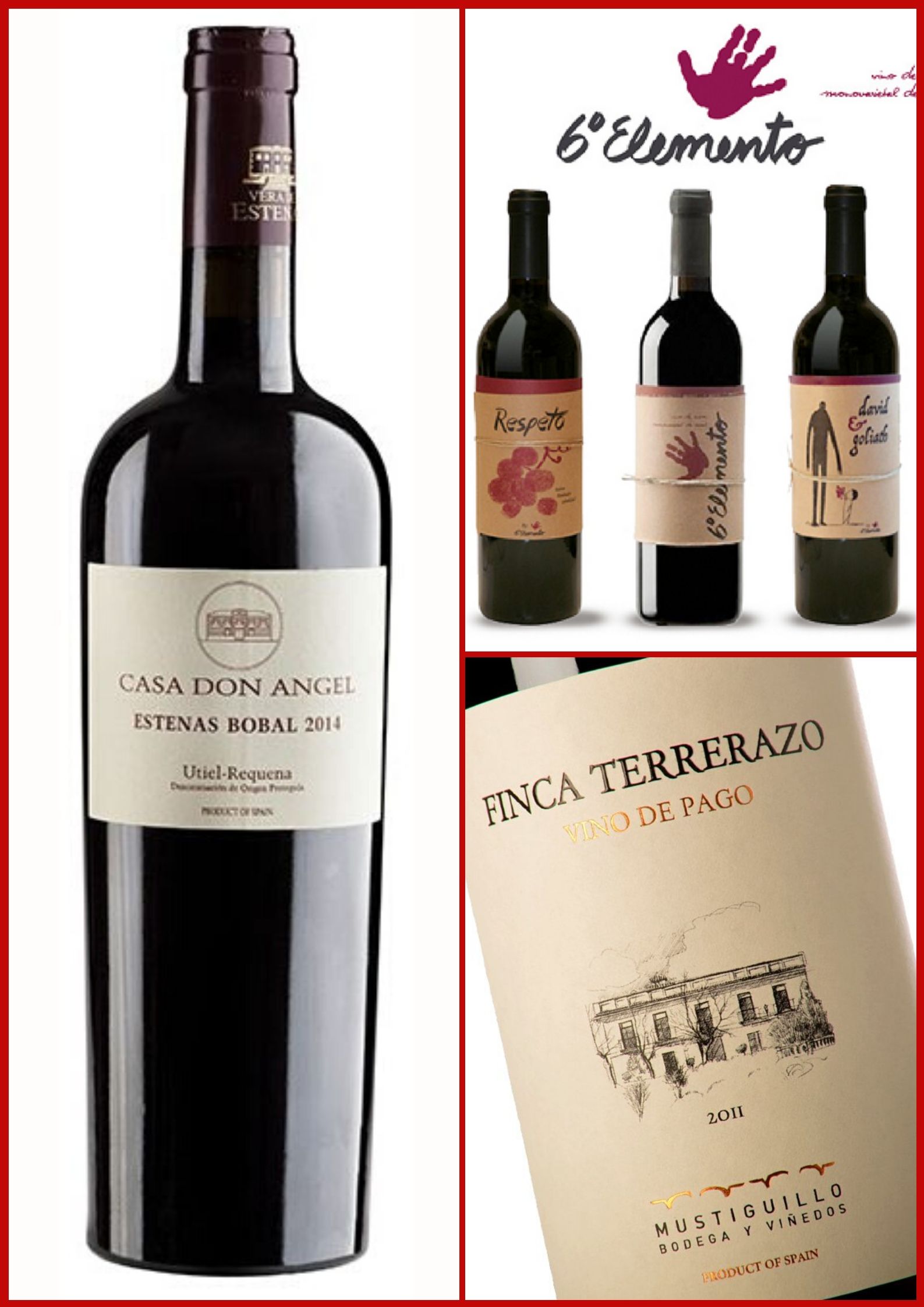 Some Bobal wines from Utiel
There are a few very small, relatively new, wineries making really nice wines: Cerrogallina produces a very nice Bobal (and a Pinot Noir!) worth trying. Bodegas Las Mercedes and Montesanco both produce small quantities (only 2-3000 bottles) of excellent old vines Bobal per year; Montesanco also makes a great Macabeo (white) wine. These wines are not easy to find!
Let's not forget natural wines: Bodega Sexto Elemento produces a delicious natural Bobal wine, almost black in colour, very intense, and there is the super-small Endemic winery, 3 brothers producing only 1200 bottles a year. Last but not least is Bodegas Cueva, where Mariano experiments with anything that ferments, and produces some nice Bobals as well… really interesting to visit!
In the past most grapes in the Utiel-Requena region were Bobal; nowadays this is only around 75%. Initially the Bobal had to make space for the Tempranillo grape and the French grape varieties that were introduced and promoted all over Spain. In the last 15 years white grapes are on the increase; these are mainly for the production of Cava, the Spanish sparkling wine, which is made in Requena.
Cava
In the 1870s some Catalan wineries started producing sparkling wine the same way that Champagne is made (second fermentation in the bottle), and they called it, logically, Xampany. The few Spanish producers of sparkling wine would also put Champán on the labels of their sparkling wine, or even "Spanish Champagne". But regional names became protected in the European Union, and the name Champagne was to be used only for products grown and produced in the Champagne region. When in the late 1980s the Catalans established the Denomination of Origin of Cava for their sparkling wine, they wanted it to be only for the Catalan producers; however, some Spanish producers went to court and forced their entry into the same Denomination of Origin. Only 27 villages in Spain (and outside Catalunya) took advantage of a window of opportunity and applied for being part of the DO of Cava.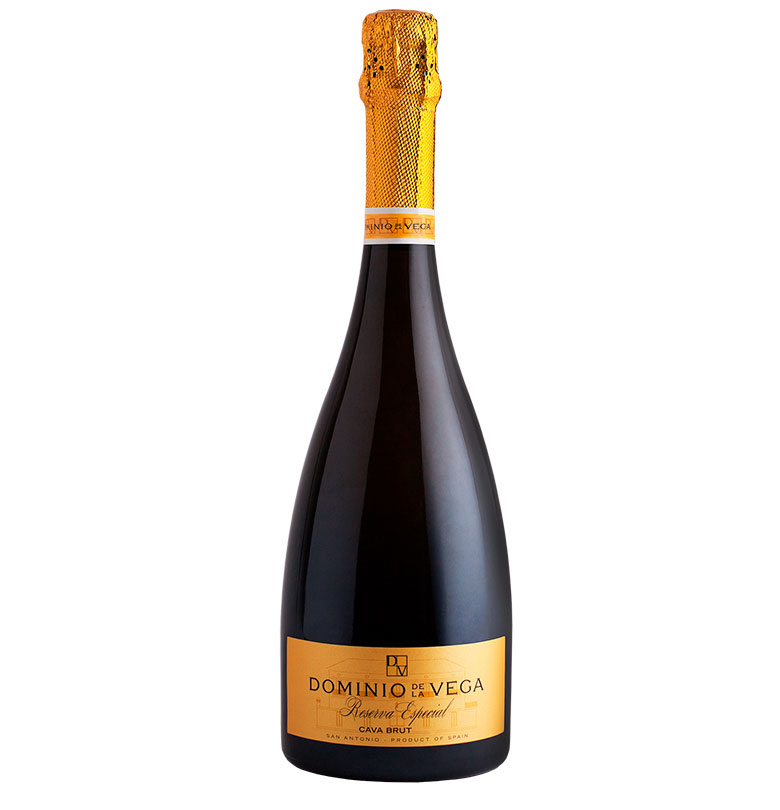 Dominio de la Vega Reserva Especial
Requena is the only village in the Valencian provinces (Alicante, Castellón and Valencia) that is part of the DO Cava. In Utiel and the other Valencian villages they can make sparkling wine, but they cannot put "Cava" on the labels – the grapes for Cava must come from vineyards within the Requena municipality, and the Cava must be made in Requena.
The main Cava producers of Requena are Dominio de la Vega, famous for its Reserva Especial, and Hispano Suizas, though other wineries of course also make good Cava, like Vegalfaro or Chozas Carrascal. Production of Cava in Requena has increased rapidly in the last year; in 2012 a total of 1.6 million bottles was produced in this village, while in 2019 production was expected to reach 10 million bottles!
The Utiel-Requena wine region deserves a visit, for its beautiful scenery, and above all for its great wines and Cavas. If you like, I could organise your visit to any or all the wineries I mentioned, so you can taste and buy these great wines!
Don't hesitate to ask for more information on options and prices.
Sin comentarios